Survey: 40% of employees are thinking of quitting their jobs
| Posted on: | Category:
Hybrid Work
From https://www.weforum.org/agenda/2021/06/remote-workers-burnout-covid-microsoft-survey/
A hybrid blend of in-person and remote work could help maintain a sense of balance – but bosses need to do more. More than half of 18 to 25 year-olds in the workforce are considering quitting their job. And they're not the only ones.
In a report called The Next Great Disruption Is Hybrid Work – Are We Ready?, Microsoft found that as well as 54% of Generation Z workers, 41% of the entire global workforce could be considering handing in their resignation.
Similarly, a UK and Ireland survey found that 38% of employees were planning to leave their jobs in the next six months to a year, while a US survey reported that 42% of employees would quit if their company didn't offer remote working options long term.
It highlighted seven major trends, which show the world of work has been profoundly reshaped by the pandemic:
Flexible work is here to stay
Leaders are out of touch with employees and need a wake-up call
High productivity is masking an exhausted workforce
Gen Z is at risk and will need to be re-energized
Shrinking networks are endangering innovation
Authenticity will spur productivity and wellbeing
Talent is everywhere in a hybrid world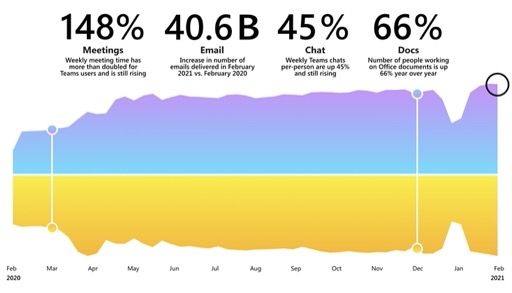 Some interesting notes:
Employees want the best of both worlds: over 70 percent of workers want flexible remote work options to continue, while over 65 percent are craving more in-person time with their teams. To prepare, 66 percent of business decision makers are considering redesigning physical spaces to better accommodate hybrid work environments. The data is clear: extreme flexibility and hybrid work will define the post-pandemic workplace.
This barrage of communications is unstructured and mostly unplanned, with 62 percent of calls and meetings unscheduled or conducted ad hoc. And workers are feeling the pressure to keep up. Despite meeting and chat overload, 50 percent of people respond to Teams chats within five minutes or less, a response time that has not changed year-over-year. This proves the intensity of our workday, and that what is expected of employees during this time, has increased significantly.
One of the brightest sides of the shift to remote work is that it widens the talent marketplace. Remote job postings on LinkedIn increased more than five times during the pandemic, and people are taking notice. Forty-six percent of remote workers we surveyed are planning to move to a new location this year because they can now work remotely. People no longer have to leave their desk, house or community to expand their career, and it will have profound impacts on the talent landscape.